DIRECT THERMAL PRINTING
This print technology uses chemically treated, heat-sensitive media that turns black when it passes under a heated print head. Therefore, no ribbons, ink, or toner is needed.
Lowest Printing Cost.
Easy to Use and Maintain.
BLUETOOTH MOBILE PRINTING
Design and Print Labels directly from your smartphone using Bluetooth Connectivity from the Atpos Label App included free with the printer.
Supports Labels with Graphics, Barcode, QR, and Text.
Supports Android Tablet, and iPad.
Wirelessly connect to your Windows Laptop, and Desktop Using Bluetooth.
AUTOMATIC LABEL INDENTIFICATION
Adjustable label width from 1.2″ (30MM) to 3″ (76MM) in width.
Stable Printing, Supports all 30x30mm , 50x30mm, 50x50mm, 76x30mm, 76x50mm, 76x76mm Standard Label Size.
Print EAN, UPC, Barcode, MRP Tags, Warehouse Tags, Mailing Labels, etc
Max Label roll capacity 83 mm (3.5") (External diameter)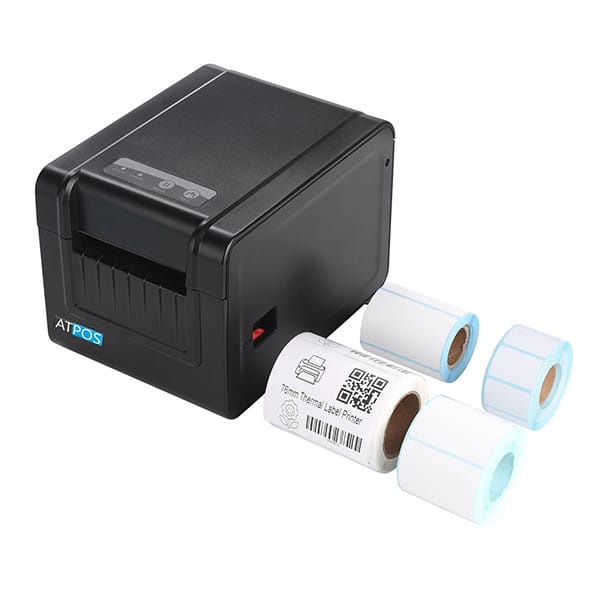 WHAT'S INSIDED THE BOX ?
Label Printer
Power Adapter
USB Cable
Sample 2X1" Label Roll